DO YOU REALLY KNOW HOW HOT YOUR BIKE IS RUNNING?
Learn about our Harley cooling fan and how you can save your engine!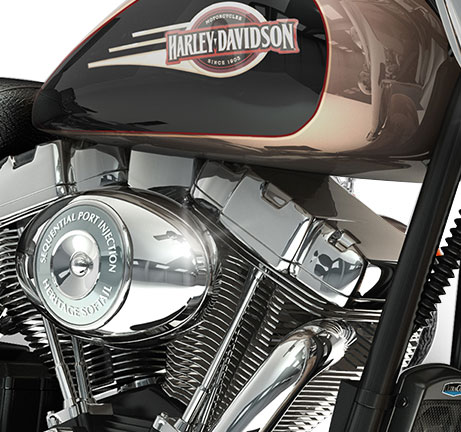 I was out visiting a Harley Dealership and we were talking about how much heat an engine can generate throughout a ride and it's symptoms – rider feeling the heat, engine pinging, cylinder shutting down, sputter etc. One of the managers said to me "I bet you wished every bike had your cooling system on it" and at first I smiled but answered with a thought "What I had wished is that every bike had a oil temperature gauge" because if everyone saw and knew how hot their oil was getting at different times of their ride, they would be shocked and would feel the urgency or need to purchase our cooling system.
The bottom line is "Heat Kills" and air cooled or twin cooled bikes do get HOT at some point during your ride period. With the engines getting bigger, bikes becoming heavier, fuel emissions getting stricter, ambient air heat increasing coming off the pavement, traffic becoming busier causing more stop n go, no matter where you live or ride. All of this creates more heat. With the variables just mentioned, oil temperature nowadays can get up to 260 to over 300 degrees and 90% of riders don't realize it or want to believe it. Most people know at times their bikes do get hot, and they feel the heat off the engine just by riding, but truely not how hot. When we are in our booth at shows, we get a lot of interest and sales, but I get quite a few people that like the concept and the need of our product but tell me that their bike doesn't get hot? So I ask, what oil temperature degree do you run at? They answer "we don't have an oil temperature gauge" and my next question is always "how do you know it's not hot"? Once the oil temp reaches 250 degrees or over, the break down process in oil properties become more rapid, that can cause more maintenance and shorter longevity of your engine.
UltraCool has been in business for almost 10 years and is the original fan assisted oil cooler thermostatically controlled. We have had a lot of trials and errors the first few years, but have learned from them and now it has evolved into the dynamic cooling system it is today. Our quality and performance is second to none. Our number one goal is to attack heat, which starts in reducing your oil temperature, which we accomplish from anywhere between 30-50 degrees (depending on variables and bike) continually striving to keep it anywhere between 200-235 degrees at all times even through extreme conditions. Our complete fan assisted cooling system kit is designed with our durable thermal switch with a built in waterproof connector that activates our powerful waterproof IP68 dual fans producing 220 CFM's when your oil temperature reaches 210 degrees, blowing through our specially designed aluminum heat exchanger for maximum heat dissipation, steel braided oil lines with AN6 fittings, powered by our plug n play wiring harness with relay and waterproof connectors that all connects under your seat. Through testing, our focus is to control and maintain your oil temperature at its earliest stage to protect your engine and investment.
Ride free and cool,
Earl
"Let UltraCool take care of your oil, and your oil will take care of your engine"
http://ultracoolfl.wistia.com/medias/0v9cyik87p?embedType=async&videoFoam=true&videoWidth=640
UltraCool® Harley® Oil Cooler & Motorcycle Oil Cooler Systems
Welcome to a new generation of Harley Davidson oil coolers. The latest innovation for your Harley-Davidson® and V-twin motorcycles. Whether you're traveling the back roads of America, stuck in a traffic jam, or just cruising the city streets, oil temperature is a constant threat to the rider and engine safety. We help this issue by keeping your engine oil flow running cooler with the best motorcycle parts in the USA, while adding comfort and safety to your ride. Welcome to the UltraCool® Oil Cooling System.