Customer Reviews
See what our fans are raving about. Share yours today!
Plastic Renew is Magic!
My only regret is I did not discover Plastic Renew sooner! Having 2 kids that race on a national level you can imagine how many sets of plastics we go through. I decided to try Plastic Renew because I was sick of spending 100+ X 2 riders on a new set. I was 100% blown away by how great they looked, literally looks brand new. I added a photo so you can see the magic (no filter used on my photo) taken right after i used the product. This stuff is AMAZING! Super pumped I found this product as it keeps the bikes looking awesome and saves me a ton of money. Do yourself a favor and give it a shot, you won't be disappointed!!!
FilterSkins! best thing to have on any ride!
The PC Racing filter skins are one of the things we pack for every ride! it makes cleaning air filters 10x easier. we use them on our cry 450x Baja bikes as well as our gas gas 300 xc enduro bike. My favorite part about these skins is that you can stack them up on your air filter for multi-day rides. so after a long day of riding, all we have to is pop the seat off and peel a skin off and we are ready to ride again! another great PC racing product is the stainless steel reusable oil filter for the CRF 450x. this is a great way to increase oil flow through the motor and they are very easy to pull out, clean and throw them back in! overall this is a great company with very well thought out products built to make riders lives easier and bikes run better!(attached is a picture of a air filter with double filter skins being put in maxs bike during our last ride to Cabo)
The Fork Support is awesome!!
Love this product! Really helps to ensure you don't compress your forks down while loading, definitely recommend to get one if you don't have one already! Super convenient and easy to use!
FilterSkins A must have!!
I keep a few of the FilterSkins with me at all times. Nothing better than turning a filter change into a 2 minute job!
FilterSkins are a must have!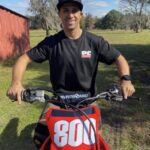 I've been using FilterSkins for the past 2 years and I will never go a day riding my motorcycle without them. I save so much money on filters and I'm not the guy to clean filters so it saves me. I can get 5-6 rides out of a filter!!! They are a huge life saver!!!
Great Product, Highly Recommend
I'm using the FLO oil filter on my 2019 Softail Street Bob and I couldn't be happier with the product. PC Racing is a brand I definitely trust when it comes to my bike!
Lindsay Blalock
Motos N' Lettos
Great Bike Products!
Finally found a permanent solution for oil changes - instead of throwing away the oil filter every time I change the oil, I got a FLO Oil Filter. Works great!
What people are saying about us...