The streets of Hollister, California will once again bask in the roar of hundreds of motorcycles as the Hollister Freedom Rally, the "Birthplace of the American Biker," is set to take place from July 3 to 5, 2015. This event, which is the largest of its kind in California and one of the top 10 in the entire United States, will be bringing together the country's top accessories, apparel and parts vendors as well as the major motorcycle manufacturers to feature and sell their best and latest offerings.
UltraCool, is one of the most exciting names to be featured in the highly anticipated event this year. Motorcycle enthusiasts should stop by the Custom Chrome Booth — the top stop for the world's finest products for Harleys during the Rally weekend.
The Custom Chrome Booth will be found in the home of another can't-miss brand at the Rally: Corbin Motorcycle Saddles and Accessories at the North side of town. Corbin's Workshop of Wizards is set to host a variety of motorcycle shows, conduct factory tours and live music, throw a bike show, and offer an event discount of 10% on all purchases at the Corbin factory from June 29 to July 5, so be sure not to miss out on the action.
Be prepared to learn about and witness the power of a high-quality oil cooling system during the three-day event when you stop by to check out UltraCool's top innovations. For motorcycle owners who frequently go on leisurely spins around the city or travel the back roads of America for months on end, off-the-charts oil temperatures is a widely known threat to safety and comfort.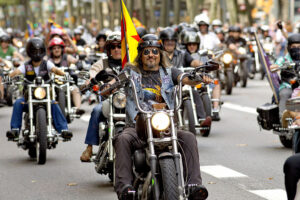 To address this risk, UltraCool developed the Reefer, the perfect balance between power and performance. Advanced engineering was used to produce a new generation of quality components for this system to help riders experience the best oil cooling technologies ever made.
With your motorcycle oil supply kept at a consistent temperature, your engine will run smoothly even as you make abrupt acceleration changes in hot weather or take the motorcycle through long distance trips. Overheating and breaking down in the middle of the road become things of the past as superbly designed oil cooling systems work to help motorcycle owners get maximum performance and efficiency out of their beloved engine.
Come on down to the Hollister Freedom Rally this year and have your fill of good food, great beer, impressive custom bike shows, quality entertainment, poker walks, and the best range of products that can enhance the power of your motorcycle — like the Reefer, UltraCool's best oil cooling system to date, and the only logical solution to your motorcycle's oil cooling needs.