Most people think that only "nuts" would ride their motorcycle when it's seriously cold out. Why would anybody want to be blasted with teeth-chattering cold air when they can be warm and cozy in a car with a heater, right? Oh well—there are lots of riding "nuts" in the world, and it doesn't matter if it's pouring rain or snow—they're going to ride their bikes because it's their lifestyle.
Of course, they do not disregard the fact that they can suffer from hypothermia because of this—they do take precautionary measures to ensure that cold weather motorcycle riding will not have them down with pneumonia or some kind of injury due to road conditions. So, if you're thinking of sticking to your motorbike this winter to somehow avoid the traffic most car drivers suffer through, here are some tips to help keep you warm and safe.
1. Invest in winter riding gear. Make your clothing choices completely appropriate for the season. Buy a few warm pieces and learn how to layer your clothes so cold air will have a hard time penetrating your outfit. You may also want to purchase undergarments (which allow perspiration to evaporate instead of remaining as cold moisture on your body) as well as waterproof yet breathable outerwear (which will protect you from the wetness of rain or melted snow).
2. Prep your ride for the cold. Install heated grips; also, if your bike is water-cooled, make sure the anti-freeze is new and mixed thoroughly. Check the hoses and the radiator because you don't want to be miles away from the nearest repair center on a cold day with a broken radiator.
3. Another safety tip is to adjust your riding style to the weather to keep those tires warm. Expert riders advise accelerating and decelerating often and putting more pressure on the breaks. Likewise, have the tires checked and see if there's enough tread on the tires for cold weather riding.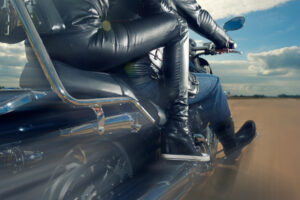 4. Always keep an eye out for black ice, cracks and salt. Slow down when you see them as they are often the
maincauses of vehicular accidents in the winter.
5. Observe proper distancing because halting to a stop is always trickier when there's moisture on the road. Also, look further down the road so you can quickly take note of hazards that will require you to adjust your riding speed.
6. Be prepared for the worst and have the towing service provider's number on your phone.
7. After a long, cold ride, indulge in a long hot bath to take away the chill from your joints and bones.