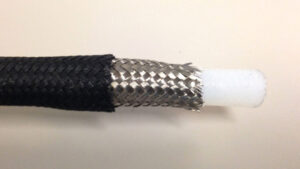 UltraCool is responsible for putting on the market the best oil cooler for Harley-Davidson motorcycles. Its superior properties have propelled it to its leading position. Its commitment to quality is evident in its effort to continue pushing the envelope. This year, it introduces a new feature that will make your favorite Harley oil cooler even more efficient. We're talking about lightweight stainless steel braided hoses with black or nickel-colored swivel fittings. With the use of these new braided hoses, your oil cooler can better optimize its function.
What makes a braided hose better than the standard hose?
Looking at the superficial difference, you're likely to assume that it's all about the bling appeal. Braided oil lines with their more polished material and intricate pattern definitely look fancier and more interesting than a plain hose. While some may be motivated to make the upgrade for this alone, the purpose of the braided hose actually transcends the aesthetic.
Whether you're using braided hoses for brake lines or oil lines, the benefits are pretty much the same. Plain hoses, which are typically made of rubber, are prone to cracking, hence the need to replace them frequently. Meanwhile, braided lines are more flexible and, therefore, also more durable. This effectively translates to greater convenience and even bigger savings.
Another thing to note about plain rubber hoses is that they tend to swell under pressure. Through time, they would have stretched and extended to the point of inutility, in which case they would then have to
be discarded and replaced as well. Braided hoses, on the other hand, do not suffer from the same malady. Fortunately, stainless steel is not given to swelling, which consequently allows the oil cooler's performance to remain consistent. This is another point toward braided hoses in terms of longevity.
Overall, steel braided oil lines are more robust than the standard hoses. As mentioned above, they're flexible where it counts yet unyielding to pressure. Taking into account the material they are made of, they're definitely tougher and infinitely better at withstanding impact.
Now, some people have voiced their worry that stainless steel would make the entire thing heavier, but UltraCool uses light steel, so the replacement or upgrade shouldn't make much of a difference in terms of weight. The company's exceptional R&D team is always diligently testing so that its products are designed and manufactured to be at their most efficient.
With the introduction of UltraCool's braided oil lines this new year, the rest of 2015 definitely bodes well for current and prospective customers.