Harley-Davidson has an enduring and absolutely cool legacy. The exquisitely made choppers you get from this American motorcycle manufacturer gives you more than just an ultra slick way to get around. The iconic brand also lets you in on a lifestyle that defines freedom on the road. With high-quality rides and a glorious legacy, you would do well to take good care of your Harley-Davidson bike.
And with the recent arrival of the 2015 Harley-Davidson motorcycles, you'll have even more reasons to keep your bikes in excellent shape. From the easy handling and smooth-riding suspension of the SuperLow to the beefy, old-school chopper look of the Wide Glide to the fat tires and "surly" attitude of the Fat Bob, the latest motorcycles from Harley-Davidson deserve some TLC. Try the following tips:
Get more than just an oil change when you take your Harley-Davidson chopper to an authorized service center.
• Inspect oil level, making sure it's just right at operating temperature.
• Replace engine oil, filter, and drain plug-O ring.
• Check fluid level of front brake and clutch reservoirs. Check rear brake reservoir, too.
• Check torque of front and rear axle unit.
• Check exhaust system for leaks and loose or missing components (e.g., exhaust shield).
Get the right Harley-Davidson parts.
From the oil cooler system to the spark plugs, make sure you get the right replacement parts for your Softail or Dyna bike. This will ensure the integrity of your chopper as well as guarantee its smooth performance on the road.
Keep it tuned and running at its peak with regular maintenance.
Different parts of your Harley-Davidson chopper will need specific schedules for check-ups. Follow those schedules when you can because neglect will not only downgrade performance but also affect your ride's safety.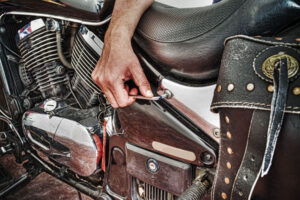 Take it out for a road test.
Try to verify the system and component functions by riding out in challenging conditions. Put your Harley-Davidson to the test and see whether the oil cooler system or the exhaust system gives way.
Check tire pressure.
Tire inflation pressure can affect the longevity of your tires and the performance of your chopper. Proper inflation leads to longer wear while correct pressure leads to better fuel economy, better braking, maximized traction, and reduced damage or failure.
Overall, you just need to regularly check it and get it looked at, so your Harley-Davidson bike rides out clean and mean. No matter where the road takes you, proper maintenance of your chopper will mean greater and cooler travels.